Samsung Galaxy A53 5G Review
The Samsung Galaxy A53 5G has a good screen, an excellent camera system, and a battery life of up to two days.
Samsung Galaxy A53 5G
REASONS TO BUY

+ 6.5-inch Super AMOLED display, 120Hz
+ Fantastic three-lens rear camera
+ Astonishingly good battery life
REASONS TO AVOID

- Lacking in performance
- No wireless charging
- Can't shoot 4K video at 60fps
This Samsung Galaxy A53 5G review is for those who want one of the best Samsung phones without having to spend a fortune. While it may not be on the same level as the best phones on the market, it's a great alternative that doesn't require too many compromises.
The Samsung Galaxy A53 5G, which will be available in 2022, is the successor to last year's Samsung Galaxy A52, which was and continues to be an excellent value for money. I was particularly impressed with its point-and-shoot photography, large display, and long-lasting 4,500mAh battery when I reviewed it. It was one of the best Android phones for a low budget at the time. This newer model is largely the same as the previous one, but it has received some updates to keep it current and competitive.
In this Samsung Galaxy A53 5G review, you'll learn everything you need to know about the device, including details on the design, display, and camera system, as well as performance and battery life.
Also Read: Samsung Galaxy Book 2 Pro Quick Look is now available.
SAMSUNG GALAXY A53 5G REVIEW: PRICE AND WHAT'S NEW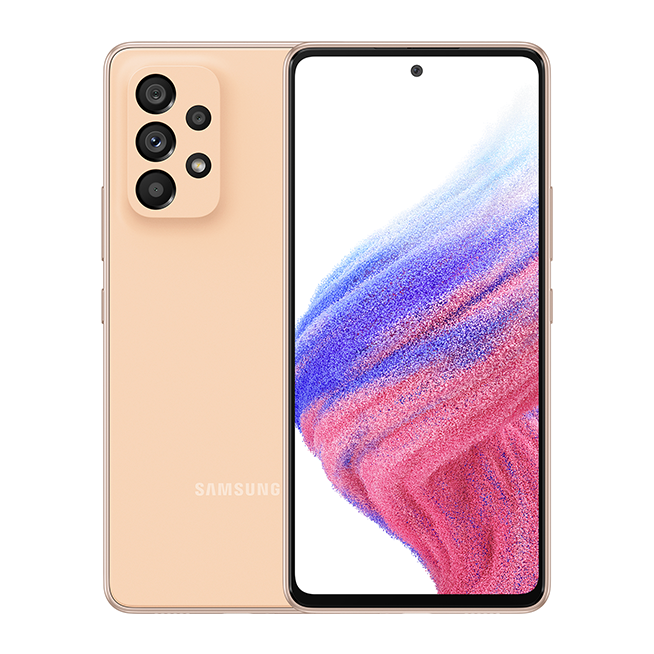 (Image credit: Samsung)
You can buy the Samsung Galaxy A53 5G right now. If you buy it directly from the Samsung store, it will cost $450 in the US, £399 in the UK, and AU$699 in Australia, in India Rs. 34,499 which is comparable to the price of its predecessor at the launch.
Check out the widgets on this page to see where else you can get the phone as well as the best deals on it right now from around the web.
There are a few minor differences between the Samsung Galaxy A53 5G and the Samsung Galaxy A52 from last year. While the size and shape are nearly identical, the design has been updated with a new camera module and new colorways to choose from.
The hardware has been upgraded from the Qualcomm Snapdragon 750G 5G to the Exynos 12980 under the hood, but you still get 6GB of RAM and 128GB of storage. The screen technology and camera system are identical, but the battery has been increased to 5,000mAh from 4,500mAh.
Also Read: Realme UI 3.0 Update Tracker: India Release Date, Top Features,...
SAMSUNG GALAXY A53 5G REVIEW: DESIGN AND DISPLAY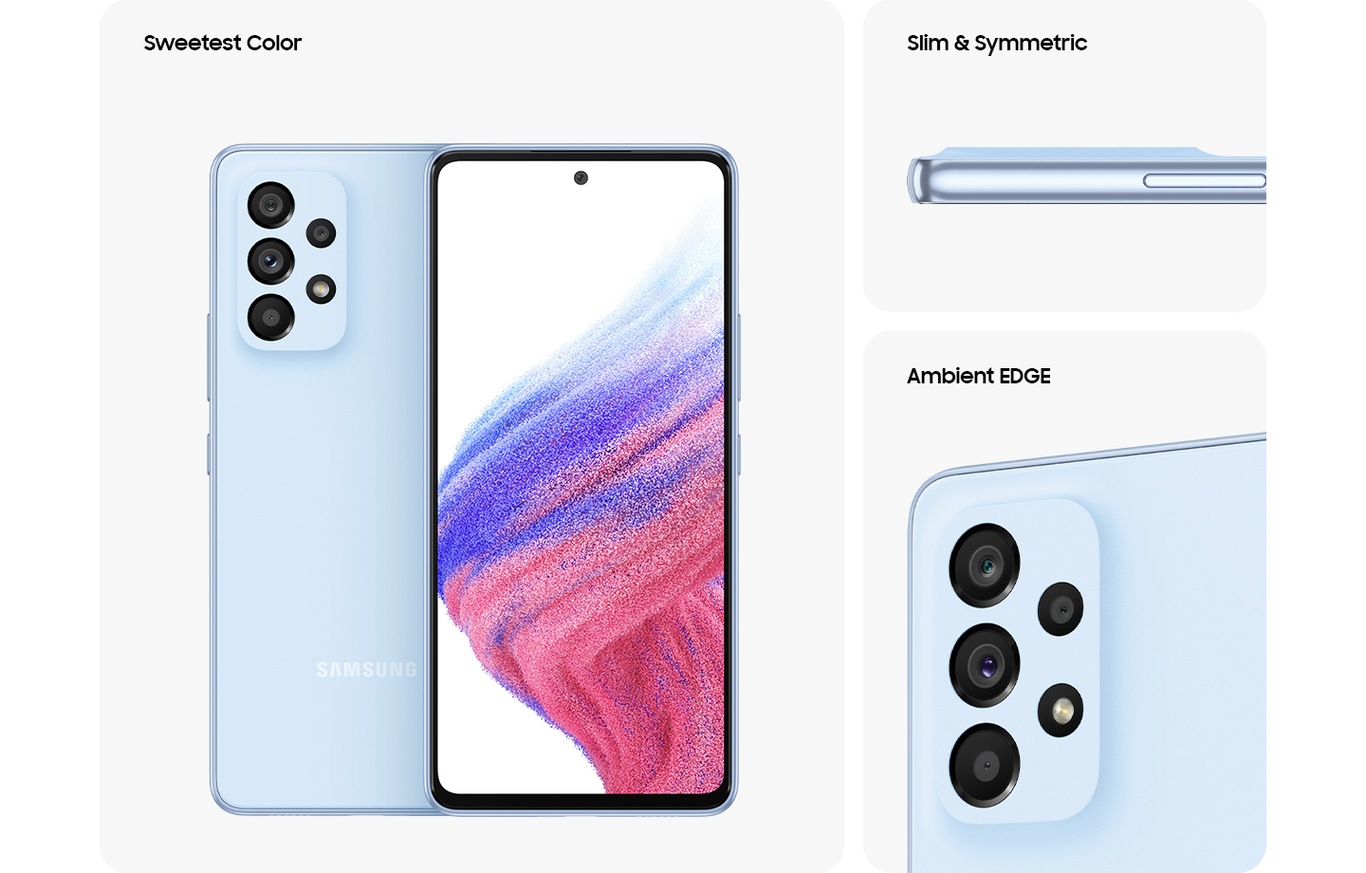 (Image credit: Samsung)
The Samsung Galaxy A53 5G is a phone with a completely flat screen, following in the footsteps of the rest of the Galaxy family. With a display size of 6.5 inches, you'll have plenty of space to play, watch, or read on. The bezels have shrunk in this latest addition to the lineup, resulting in an 85.4 percent screen-to-body ratio, making the handset appear much more modern than it did previously.
The display employs Super AMOLED technology with a resolution of 1080 x 2400 (FHD+), 800 nits peak brightness, and a refresh rate of 120Hz, making it look and feel fantastic to use. It's bright, colourful, and sharp, with silky smooth scrolling, swiping, and tapping. I thought it was equally suitable for Netflix streaming as it was for online shopping or catching up on emails.
All of the colorways available are labelled 'Awesome,' indicating that the Samsung Galaxy A53 5G isn't a serious smartphone. It's available in standard black and white, but if you're feeling a little more daring, it's also available in light blue and peach.
I tried out the peach model and fell in love with it. Unlike some phones, you won't need to cover up the cool design with a case because the matte plastic back appears to be very unlikely to break and also avoids fingerprint marks.
This contrasts with the phone's matching shiny frame around the edges. Everything is as expected, with a power button, volume rocker, and USB-C charging port. However, because Samsung has removed the 3.5mm headphone jack, you'll need to use an adaptor or Bluetooth headphones to listen to music.
The Samsung Galaxy A53 5G is slimmer than the A52, measuring 159.6 x 74.8 x 8.1mm. It's also very easy to hold and use one-handed because it only weighs 189g.
The layout of the three-lens camera system has also changed; it is now completely integrated into the body of the device, so the module curves upwards rather than being stuck on. I think it looks fantastic.
The Samsung Galaxy A53 5G, like its predecessor, is IP67 water and dust resistant, which means it can be submerged in 1m of fresh water for up to 30 minutes. This will give you peace of mind when using it in public.
You can unlock the display using a pin, pattern, or password, as well as facial recognition or your fingerprint. The fingerprint sensor works well; it's fast and accurate, but I believe it should be placed slightly higher up the screen to correspond with where your thumb naturally rests.
Also Read: Android 12 Update Tracker: Eligible Devices from Samsung,...
SAMSUNG GALAXY A53 5G REVIEW: CAMERA SYSTEM
(Image credit: Samsung)
The camera setup on the Samsung Galaxy A53 5G is identical to the A52, and while upgrades are always welcome, there's no need to fix something that isn't broken.
The system includes a 64MP main camera, a 12MP ultrawide lens, a 5MP macro lens, and a 5MP depth sensor on the back, as well as a 32MP front camera for selfies.
Because there is no telephoto lens, you will have to rely solely on digital zoom to capture distant objects. It will be able to magnify the image to 10x, but as you can see below, the results will be poor. Most people will be fine with that, but if you frequently use your smartphone camera's zoom, you may want to consider a different, possibly more expensive handset.
The Samsung Galaxy A53 5G did an excellent job of capturing colours and detail on its default point-and-shoot settings. Photos look natural, with no oversaturation; they don't quite compare to shots taken by high-end smartphone cameras, but I was impressed with a phone this cheap.
It performed best on bright sunny days, as expected, but even on a dreary day, I was able to capture some decent-looking shots that balanced the light and dark areas of the scene well. You may need to re-adjust the focus point to get the lighting just right, but the results are fantastic when you do. View the gallery below to see some of the photos I took with the Samsung Galaxy A53 5G.
While the camera offers a lot of bang for your buck, the Macro mode isn't as impressive. I discovered that it struggles to focus at times, and even when it does, you don't get the same level of detail as you would elsewhere. It also appears to darken the colours slightly.
The camera system's biggest drawback is the lack of a 40K video at 60fps, despite the fact that it can shoot 4K video at 30fps. While you won't find this feature in many other phones at this price, some do, which is why it feels like a letdown in an otherwise excellent camera.
Also Read: MSI Katana GF76 review: Good gaming performance at an affordable...
SAMSUNG GALAXY A53 5G REVIEW: BATTERY AND PERFORMANCE
(Image credit: Samsung)
The Samsung Galaxy A53 5G is powered by Samsung's own Exynos 12980 5G processor, 6GB of RAM, and 128GB of storage, which can be expanded using a MicroSD card.
This phone feels perfectly fine to use for browsing the web, scrolling through social media, and answering messages, but keep in mind that it's not going to be a powerhouse piece of kit, so large apps and games like Call of Duty Mobile may cause issues.
On Geekbench 5, it scored 741 in single-core and 1,898 in multi-core, which is roughly the same as the A52 5G - not particularly impressive. It is priced similarly to other phones in its class, such as the OnePlus Nord CE 2 and the Realme 9 Pro.
In terms of performance, an affordable phone like the Samsung Galaxy A53 5G cannot compete with flagship handsets like the Samsung Galaxy S22 Ultra or even more mid-range devices like the Samsung Galaxy S21 FE.
You get a 5,000mAh battery to keep you going throughout the day, which Samsung claims will last up to 2 days of use or 18 hours of video playback. I put that to the test by playing a two-hour video at full brightness. During that time, the battery level dropped by only 8%, implying that it would have lasted 25 hours in total, which is far superior to most other phones I've tried, including the most expensive.
Charging it again took me over two hours, which is a long time compared to the 20 minutes offered by some devices. Unfortunately, you will only receive a USB-C cable in the box, so if you do not already have one, you will need to purchase a 25W charger separately. Wireless charging is not supported by the Samsung Galaxy A53.
Samsung's One UI 4.1, which is based on Android 12, is used behind the scenes. It is, in my opinion, one of the best Android versions available. It's colourful and user-friendly, with simple menus, and Google's apps are pre-installed on the device. You'll also get a lot of customization options, such as the ability to match the theme and colour palette to your wallpaper.
The only complaint I have about this operating system is how many Samsung apps they've installed; you may have to spend some time going through and deleting them if you miss that stage of the setup.
One of the most useful aspects of Samsung's One UI is its compatibility with other Samsung devices. In practise, if you're watching a video on a Galaxy Tab and a phone call comes in, your Galaxy Buds will automatically switch over the audio. You'll also be able to connect the Samsung Galaxy A53 5G to Windows, allowing you to access your phone's messages, notifications, and files from a computer.
Also Read: Asus ROG Zephyrus S17 review: Best gaming performance at...
SAMSUNG GALAXY A53 5G REVIEW: VERDICT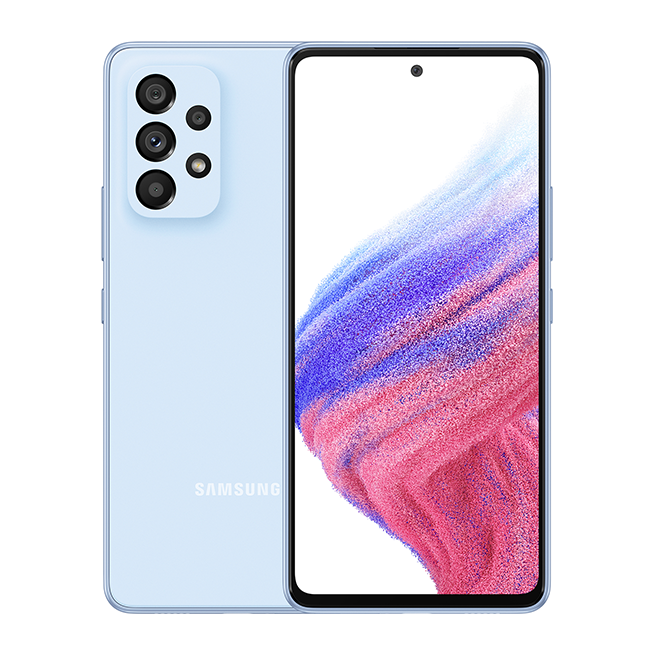 (Image credit: Samsung)
The Samsung Galaxy A53 5G is a great choice if you're a total snap-happy person looking for an affordable new phone. It's one of the best cheap phones for point-and-shoot photography; you'll struggle to find another with such a capable camera system for less than $500 / £400.
To be sure, there are some drawbacks. The most serious flaw is its performance; it lacks power, which will be inconvenient for those who spend a lot of time scrolling through their phone. You may also be bothered by the slow charging times and the lack of wireless charging. But if you can overlook those flaws, it will be worthwhile, especially if you already own other Samsung Galaxy devices.
To summarise, the Samsung Galaxy A53 5G has a great screen, a killer camera, simple software, incredible battery life, and it's all packed into a modern phone that also looks the part. It's difficult not to recommend it to anyone on a tight budget. The only reason I would advise against purchasing this is if you already own an A52 because it isn't sufficiently different to justify the upgrade.